Welcome
The core purpose of what we do at Shiney Row Primary School is to support all our children to be the very best that they can be. Everything we do is aimed at helping children succeed as happy confident learners.
All the staff at Shiney Row Primary School are committed to providing the highest standards of teaching and learning, through a combination of challenge, support and encouragement. We want all children to do their very best and enjoy coming to school to learn in a safe and happy environment.
We want children to develop a lifelong love of learning and we place achievement at the heart of what we believe in. We will provide the best conditions for learning that we can so all children have access to a variety of learning experiences and opportunities during their time at Shiney Row Primary School.
"We inspire, we challenge, we care"
.
In response to a request from parents, Friday 18th May will be a non-uniform day. Children are encouraged to dress in red, white and blue or dress as a prince or princess in honour of the upcoming Royal Wedding of Prince Harry and Meghan Markle at the weekend.
School would like to wish our Chair of Governors, Mr Arthur Falconer all the very best for the future as he steps down from the Governing Body after more than thirty years of service. School would very much like to thank Mr Falconer for his time, help and dedication to the school over the many years.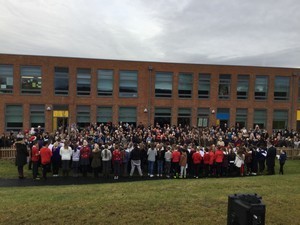 Carols around the Christmas Tree 2017
Thank you to all of the parents who came into school on the last day of the Winter Term to join with all of the children to sing some favourite Christmas carols and celebrate the holidays. It was a huge turnout and the children performed brilliantly.
Congratulations to the Y3/4 Hockey Team who won the Sunderland City Finals and qualified for the Tyne and Wear Finals in March 2018. Well Done.
With the Christmas Holiday fast approaching school will be hosting a great many festive fun activities throughout the month details of which appear on this webpage. To download a copy of all of the 'Dates For The Diary' please click here.
Ofsted Inspection 14/02/2017 Report

Excerpts from the report;

"The school motto of "we inspire, we challenge, we care" sums up Shiney Row well."

"Pupils' excellent attitudes to learning and good relationships with adults remain key strengths of your inclusive school."

"The culture of keeping pupils safe and putting them at the heart of the friendly school community is very evident."
For a full copy of this Ofsted report please click here.
Important Information
Nursery Places - Update
You can apply for a Nursery place as soon as your child becomes 2 and we are pleased to announce that we can offer now Nursery places to children when they reach their 2nd birthday rather than their 3rd.
We can also offer a limited number of full time places in school at the present time.
Please contact the school office to apply for a place. Early applications are recommended, to avoid disappointment.
Miller Homes - Library Book Donation
School would very much like to thank Miller Homes for their very generous donation of 100 books for our new school library. The donation was made as Miller Homes celebrates the educational heritage of its new Scholars Gate development built on the area once occupied by Shiney Row College campus. For further details please click here.
Shiney Row Primary School is open for business and now it's official.
On Monday 19th June the school was officially opened by the Mayor of Sunderland - Councillor Doris MacKnight in a ceremony to reflect on the achievements of everybody who had helped in some way in the transition to the new school building.